Pseudomonas not present in new taps in Derry hospital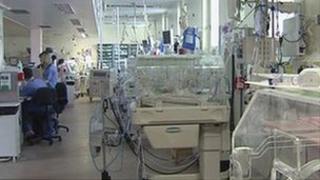 Water sample tests carried out on taps that have been replaced at Altnagelvin's neonatal unit have shown no trace of the bacteria infection pseudomonas.
The public health agency said water sample results for the Western Trust showed that pseudomonas had been detected in a small number of outlets in the neonatal unit.
All taps at the neonatal unit in Altnagelvin Hospital have been replaced after the bacteria infection was found in one of them.
A meeting took place on Friday between the chief executive of The Western Trust and Sinn Fein to discuss the outbreak of pseudomonas at Altnagelvin Hospital.
No babies in the hospital are currently infected but two babies have the infection on their skin.
Dr Anne Kilgallen, medical director of the Western Health Trust, said parents should be reassured.
"Only a very small proportion of babies born anywhere in Northern Ireland actually require special care in a neonatal unit," she said.
"These are generally babies who are born very early. I can give an assurance that all babies who are cared for in our neonatal intensive care will be cared for in the highest standards, in terms of the clinical care and the infection prevention measures that are in place."