Derry school buses found unfit for service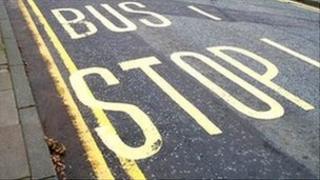 Four buses used to transport pupils to and from schools in Londonderry have been found to be unfit for service.
The spot checks were carried out at Oakgrove college.
Nine vehicles in total were taken off the road in the city following a day of checks by the DVA.
They said faults found during the inspection of 24 buses ranged from defective seat belts to problems with emergency exits.
Stephen Spratt, chief enforcement officer from the Driver Vehicle Agency, said the buses had to be taken off the road.
"There were six vehicles that were checked at the school. Four of these buses were found to be unfit for service.
"Of those four buses, three were operated by companies based in the Republic of Ireland and one was based in Northern Ireland," he said.
Seatbelts and emergency exits
"There were issues with seatbelts and emergency exits.
"We pay attention to everything from steering, brakes, tyres and the fixtures and fittings in the vehicle.
"We will be taking follow up action and we will be visiting the operators," he said.
The Western Education and Library Board confirmed that its buses are not subject to prohibition action by the DVA.
Principal of Oakgrove college Jill Markam said the buses which serve Oakgrove also serve other schools in the Derry area, the inspection just happened to be held at the college.