Protestant schools under threat in Donegal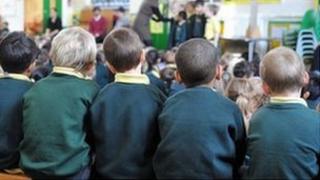 Two Donegal clergymen have said they fear the majority of Protestant schools in the county will be forced to close because of education cuts.
Father John Joe Duffy from Arranmore Island and the Church of Ireland Minister in Ardara, Reverend John Deane have issued a statement condemning the move.
The Irish Government is considering closing or merging schools which have fewer than 20 pupils. One fifth of all primary schools in the Republic cater for fewer than 50 pupils.
Reverend John Deane said 27 out of the 31 protestant schools in Co. Donegal will be severely affected.
Father Duffy said it could have huge consequences.
"While these savage budget attacks are not directly aimed at Protestant schools, indirectly it will close down almost every Protestant school in Co Donegal and many throughout the country," he said.
"For every Protestant school in Co Donegal that will be affected, Three Catholic schools will also be affected.
"It will affect in total 101 out of 175 schools in Co Donegal."
Loss of culture
Rev. John Deane said the community is devastated.
"We are really worried about what's going to happen. We're not sure what's going to happen.
"Our small schools are particularly affected.
"We feel we're losing part of our culture and identity and we're worried.