Man injured inside a bin lorry in Derry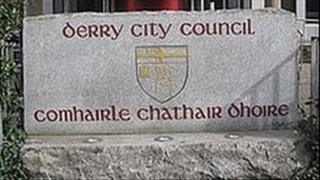 An investigation has been launched by the Health and Safety Executive after a council employee was injured inside a bin lorry in Londonderry.
He suffered cuts to his leg during the incident on the Racecourse Road last week.
Shaun Gallagher, the chair of Derry City Council's environmental services committee, said the bin man climbed inside the lorry to free a trapped bag, but triggered the refuse compactor.
"The employee went to hospital but thankfully nothing serious is wrong. It could have been a very serious incident," he said.
"There are lessons to be learnt, we will certainly implement guidelines which come forward from the executive.
"The safety of council employees is paramount. We have a credited health and safety system in place."
Derry City Council confirmed that a report into the incident, which happened last week, has been forwarded to the Health and Safety Executive.