St Peter's High School in Derry to close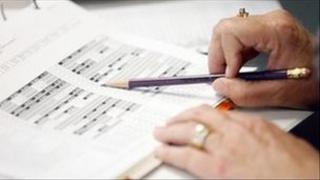 St Peter's High School in Londonderry has been earmarked for closure following a major review of Catholic education.
Immaculate Conception College in the Waterside will stay open, but St Eugene's in Castlederg will also close.
The Commission on Catholic Education released a report confirming the closure of a number of schools on Monday.
Others will be told to amalgamate.
However there is no deadline for abandoning academic selection.
The other schools earmarked for closure are St Gemma's in Belfast, St Mary's in Belleek and Drumcree College, Portadown.
Paddy Fisher, whose son Darren has just started at St Peter's, said the school's closure will be a massive blow for Creggan.
"My son now is the most relaxed he's ever been.
"He's interested in everything and it's the teachers that have put him in this position.
"He loves the school and I think it's an absolute disgrace if it closes.
"It's going to be a real kick in the teeth for the people in Creggan."
'Committed'
The principal of St Peter's, Martin Bowen, said that in general he "supported the main recommendations of the report in terms of moving away from academic selection".
"Notwithstanding the consultation with parents, pupils, teachers and governors which I expect to begin shortly, there is a guarantee that if the school closes, our existing pupils will be given places in other Catholic post-primary schools in the city.
"I would ask parents to be patient and assure them that I am as committed as ever to ensuring that all of our students will continue to have a valuable educational experience whilst they remain in our care in St. Peter's.
"At this stage, these are recommendations only and no final decision will be made until the consultation process is complete.
"I am also sure that if the minister eventually decides to close this school, my colleagues in other schools will assist me in making provision for our pupils' education to continue in our other excellent Catholic post-primary schools."
'Unfair'
Brendan Harron from the Irish National Teachers' Organisation said numbers at St Peter's had been diminishing, but he "would have hoped there would have been a role for that school in the future".
"It's inevitable in the future that there will be fewer schools because there are fewer pupils, but I think it's abjectly unfair that the non-grammar schools should bear the brunt of falling numbers."
He also said he believed the education minister, John O'Dowd, would accept the proposals.
The Commission on Catholic Education has been working on today's report since 2006, on the basis there are too many schools and too few pupils to make economic and educational sense.
Trade unions said all five schools marked for closure had been feeling under threat.
The commission had hoped that academic selection in Catholic grammar schools would end in 2012.
However, it is understood that this was so opposed by the grammar schools that, although the policy remains, the plan is now for a phased ending, with no final date set.
Cuts in funding and demands for each school to provide more subjects, make restructuring more urgent than ever.
Staff at the 100 post-primary schools have already been briefed on their future.