Derry public space 'bigger than Trafalgar Square' to open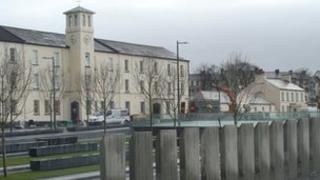 Londonderry's newest public space - described as bigger than Trafalgar Square - is to open on Tuesday.
Ebrington Square, which was once an army parade ground, features a performance area for major concerts, as well as four spaces for smaller events.
The square will be open from 18:00 GMT - the first time the site has been open to the public since it was built in the 1840s.
The centrepiece of the opening ceremony will be a light and projection show.
There will also be a Chapel of Love in honour of Valentine's Day, and music from the Codetta Choir, Inishowen Gospel Choir, The Wonder Villains, and Future Chaser.
Caoimhin Corrigan, cultural broker with Derry's urban regeneration company Ilex, said the square was bigger than Trafalgar Square in London.
"It is an event space, and we hope to see it used as an event space.
"There is a programme of animation already planned for the next few months - food events, children's events, health-related events, a few music events."
'Amazing opportunity'
Bronagh Gallagher will also perform at the opening.
"There's an optimism and a hope and a sense of community in Derry.
"People want to move forward.
"There's nothing we can do about the past now, there's enough heartache has happened in this city over the years.
"This is an amazing opportunity for people's minds to move that wee cog further forward."
The opening of the square connects the Peace Bridge - which opened last year - directly to Derry's Limavady Road.
It is the next step in the so-called Ebrington Masterplan, which seeks to transform the former barracks into a space for mixed residential, commercial and cultural uses.
Ebrington was initially built by the army in 1841 and has been home to both the army and the navy. The former base closed in 2003.
The square will be one of the key performance and cultural spaces for Derry's year as City of Culture.
The first major event to take place at Ebrington will be the Peace One Day concert in June.