UUP call for Ebrington memorial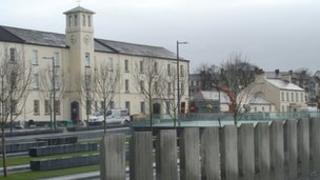 The UUP in Londonderry has said it wants to meet the urban regeneration company Ilex to discuss a memorial at the former Ebrington barracks.
Ebrington Square, a cultural and performance space on the site of what was once an Army parade ground, is to open on Tuesday.
Terry Wright, the UUP's Foyle chairman, said former staff at the barracks approached him about the memorial.
Mo Durkan from Ilex said she offered to show the group around the site.
Terry Wright, the chairman of the UUP in Foyle, said he had been told that previous proposals for a memorial to recognise the service of military and civilian personnel had received an "unfavourable response".
He said his understanding was this was "on the grounds that such a memorial would run counter to the concept of shared space".
"We would be disappointed, should this be the case, as the concept of shared space cannot be determined by the practice of 'mutual veto' but rather by the desire to understand each other's views and values in a spirit of inclusion and reconciliation.
Mo Durkan from Ilex said they had always told the story of Ebrington's history, and would continue to do so.
"However we must also remember that this is a space for all communities.
"The site is owned by the Office of the First and Deputy First Minister, and we must work within their guidelines on shared space."