City of Derry Airport costs ratepayers £3.6m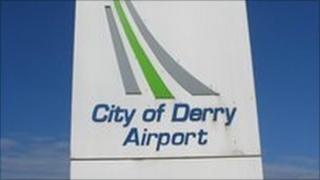 City of Derry Airport will cost the city's ratepayers about £3.6m this year.
The figure was released by Derry City Council, which owns the airport.
The airport's deficit has decreased - three years ago it lost £4.5m - but next year it is forecast to again lose about £3.6m.
In 2010 a private company, CODA, was brought in to run the airport at a lower cost to the public purse.
It said it aimed to "reduce Derry City Council's subvention of the airport over the shortest period possible".
The company still receives more than £2m from ratepayers every year.
A spokesperson for Derry City Council said that CODA is on target to reduce the actual operational costs by £800,000, despite the "very challenging economic climate".
"The airport saw passenger numbers grow by almost 20% through 2011 making it one of the UK's fasting growing airports and reversing the general trend of reducing passenger numbers at many UK airports.
"The operating cost per passenger using the airport has reduced over the last twelve months from nearly £9 to under £6.
"CODA is currently revising its 10 year plan and whilst forecasted growth will have be revised downward due the difficult economic conditions the forecast is still for growth in passenger numbers and further reductions in costs to Derry City Council."