New search for missing Derry man Eamonn Moore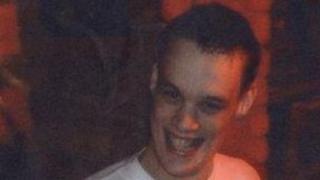 A land, sea and air search has begun in Londonderry for Eamonn Moore who has been missing since November.
The 22-year-old, from Jefferson Court in the city centre, has not been seen since he left his apartment on 26 November last year.
It is understood that his family received what they regarded as worrying texts from him at the time.
Extensive searches have already been carried out in the area but nothing has been found.
Foyle search and rescue are working alongside the PSNI and the missing man's family during Sunday's search.
"Every day that we go out, the volunteers have massive hope of finding something but as the weeks go on now hope is sort of diminishing," said Foyle search and rescue chairman Craig Smyth.
"We have put on this full scale search to see if we can find a piece of clothing or some shoes that would give an indication that Eamonn is definitely in the river."