Man refused bail over Buncrana Road bomb charge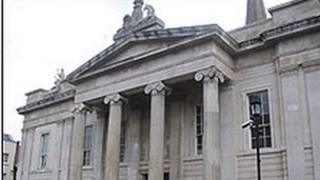 A 54-year-old health official charged with possessing an improvised explosive device has been refused bail at Londonderry Magistrates Court.
The court was told that Eugene Martin McCloone, from the Abercorn Road in Derry, was willing to be tagged and observe a curfew if granted bail.
The defendant was one of three men in a car stopped by police on the Buncrana Road in the city last September.
The viable device was found under the front passenger seat.
Mr McCloone, who denies the charge, was remanded in custody until next month.
The district judge, Rosalie Prytherch, said she believed that if granted bail, the defendant would commit further offences and leave the jurisdiction.
She also said she had concerns about justice being obstructed if he was released.