Salmon stocks in the River Foyle continue to decline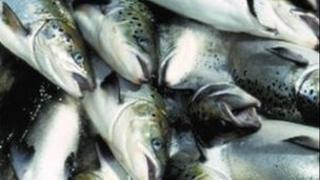 The number of salmon in the River Foyle system is continuing to shrink.
That's despite the fact that commercial fishermen have been banned from catching the fish for the third year running.
The Loughs Agency confirmed that last year there were fewer than two thousand salmon in the River Finn which is a key angling river.
That figure is down from nearly 6,000 in 2006.
The net fishermen on the river and Lough Foyle feel they are being unfairly blamed.
Billy Doherty, a drift-net fisherman on Lough Foyle, has been stopped from catching salmon since June 2010.
He said the ban won't help stocks to recover.
"The so-called experts now realise that there are other factors that are causing the decline in the salmon," he said.
"It wasn't solely the drift-net fishermen.
"I think to be honest someone somewhere needs to ask vital questions. Why are the stocks still declining after so much public money has been spent?"