UK City of Culture panel in Derry to review progress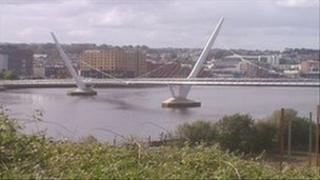 The panel that named Londonderry the first UK City of Culture is in the city to review progress ahead of next year's celebrations.
The UK Culture Minister Ed Vaizey has also announced that a competition will be launched this year to decide the next UK City of Culture, which will hold the title in 2017.
The Independent Assessment Panel is chaired by Phil Redmond who was involved in Liverpool's year as European City of Culture in 2008.
Ed Vaizey said it's a prestigious title.
"Derry-Londonderry has taken up the challenge of being the very first UK City of Culture and promises a first rate programme of world-class culture in 2013.
"I'm delighted to announce that another city will have the chance to shine in 2017.
"As well as highlighting the fantastic artistic talent that thrives in every corner of the United Kingdom, culture can transform our communities. Next year, Derry-Londonderry will open its doors to new visitors - it could be a real springboard for future economic success."
Derry was selected as the first city to hold the title by an Independent Assessment Panel chaired by Phil Redmond. He said he seen first-hand the impact culture had in driving change in Liverpool.
" Being here today I can see first-hand the huge efforts that are going in to plan a fantastic year of culture.
"It is great news that the competition will be repeated and UK City of Culture is set to become a key event in the cultural diary of the UK," he said.