Teen charged with sexual activity with a child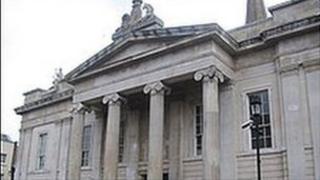 A 19-year-old woman has appeared before Londonderry Magistrates Court charged with engaging in sexual activity with a child.
The court was told the woman was found wearing only a towel when police found her with a 14-year-old boy, dressed only in shorts in a hotel bedroom on Saturday.
The woman who cannot be named for legal reasons appeared in custody charged with child abduction and engaging in sexual activity with a child.
She was also charged with possessing cannabis, possessing the drug with intent to supply, and possessing alcohol with intent to supply it to a minor.
A police officer told District Judge Barney McElhom that the boy paid for the room in the Drummond Hotel, in Ballykelly.
After they received information, police went to the hotel where staff confirmed that the defendant had booked a room with the boy.
The officer objected to bail and said the defendant had been granted bail on a charge of sexual activity with the same boy earlier this month.
After her arrest, the defendant told the police, "just leave us alone, we love each other and we just want to be together."
Applying for bail, solicitor David Brewster said the contact had been initiated by the boy who told the defendant he was sixteen.
He said it involved neither threats of violence and he described both parties as "extremely immature" young people.
The defendant was released on bail of £750 and will appear in court again in March.
As part of the bail conditions she must have no contact with the boy.