Gardai issue description of gunman who killed Derry man Andrew Allen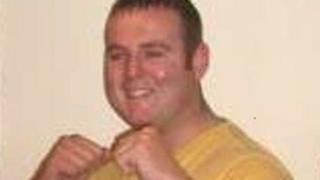 Irish police have issued a description of one of the gunmen who killed Londonderry man Andrew Allen in County Donegal.
The details were released during a TV appeal On Tuesday night.
The description was provided by Mr Allen's partner, who was with him at their home in Lisfannon when he was murdered on 9 February.
Detective Inspector Pat O'Donnell said the gunman was 5'8", of slim build and wearing a baseball cap.
He also appealed for anyone who saw a car with the registration SJI 2117 in the weeks before the murder to contact them.
"It was stored or parked around Derry City, probably in a residential area besides flats or houses," he said.
"The car had changed hands but it wasn't stolen, it was a genuine vehicle."