Derry man jailed for biting part of ear off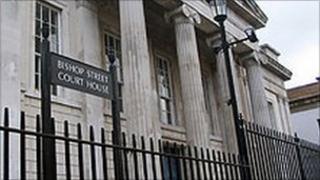 A man who bit off part of another man's ear during a fight in October 2010 has been jailed for 18 months.
Gregory O'Hagan, 22, from Glenbrae Gardens in Londonderry, appeared at the city's crown court on Monday.
Judge Piers Grant said O'Hagan acted like a "wild animal" when he kicked the injured party in the head and bit off a portion of his ear.
He was sentenced to 18 months in jail, with 12 months of that sentence on licence.
O'Hagan appeared with a co-accused, Michael Patrick Dixon, 22, from Cavanagh Court in Derry, who was also convicted of being involved in the fight.
The court was told that the injured party had been out with his wife when he stopped at a hot food outlet.
An altercation broke out with another person in the queue, but O'Hagan and Dixon then became involved and both punched the injured party.
The fight was separated but O'Hagan continued the attack.
Judge Piers Grant said the court had made clear that drunken assaults would not be tolerated, and that kicking and biting made it a serious assault.
He said Dixon had played a lesser role, and was not the instigator, but he had missed a custodial sentence "by the skin of his teeth".
Dixon was sentenced to 15 months on probation.