Doubt over Derry WOMAD festival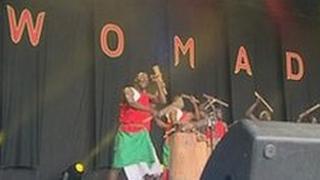 The group behind plans to bring the WOMAD festival to Londonderry in 2013 have said they cannot guarantee the event will take place.
Eddie Kerr, the former director of SEEDS, said only the city's Culture Company could give that assurance.
In response, the Culture Company said a sub-group had considered a feasibility study from WOMAD.
The group found that, as sole funders, the financial risk to the Culture Company was too high.
The four-day music festival attracts about 30,000 people every year.
When it was announced last year by the Deputy First Minister, Martin McGuinness, he said it would bring a £15m boost to the local economy.
Mr Kerr stood down as director of SEEDS last month but remains part of the organisation.
He said his hope was that WOMAD would come to the city at some point.
"The target is August 2013 as a potential date, but obviously that is dependent on discussions with the Culture Company.
"The Culture Company are the only ones who can guarantee it is coming."
In response, the Culture Company said that SEEDS had been made aware of the sub-group's decision and "fully accepts it".
"Culture Company has scheduled a packed programme of events and projects for 2013, which will be published in September this year.
"A highlights programme is to be published in May."
In a statement, the current board of directors of SEEDS said they met with the Culture Company in regard to the proposals to host the WOMAD festival.
"We would fully endorse their opinion that the financial risk of hosting the festival to the Culture Company, as sole funders, was too high.
"It was with great anticipation that the announcement was made to host the festival on 19 April last year, however having met with the Culture Company and discussed WOMAD's feasibility study the Board of SEEDS do not believe that they would be in a position to financially support the festival."
The Deputy First Minister Martin McGuinness expressed his disappointment at the news that the festival's appearance in Derry was in doubt.
"As with all proposals, it must be economically viable," he said.
"While I am as disappointed as everyone associated with the project I have to accept the assessment of both the Board of Directors of SEEDS and the management of the Culture Company that staging this festival is not feasible under the present proposals."
The WOMAD festival was founded by Peter Gabriel in 1982 and is a celebration of world music, arts and dance.
There have been more than 160 WOMAD events in 27 countries.
The organisers say their aim is to create awareness of the worth and potential of a multi-cultural society.