Vigil marks murdered man's birthday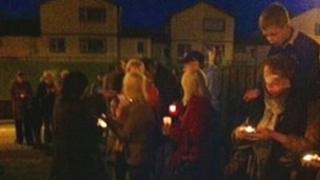 A candlelit vigil has been held in Londonderry to mark what would have been the 25th birthday of Andrew Allen.
The father-of-two, who was originally from Derry, was shot dead at his home near Buncrana in February.
The vigilante group Republican Action Against Drugs later said it carried out the murder.
Mr Allen's sister Michelle said the support of the community in Top of the Hill was a big comfort to the family.
"Everybody just wanted to come together and celebrate Andrew's life and celebrate Andrew's birthday.
"It was a show of support from the community and from his friends.
"It's a way to remember Andrew as the person he was, and not what happened to him."
Community worker Geraldine O'Donnell said Mr Allen's family and friends plan to help remove graffiti which appeared across parts of Derry following the murder.
"A lot of graffiti went up around the estate and the family told me they wanted it down.
"I contacted the Housing Executive who said they would be out on Thursday to begin the cleanup.
"The family and friends of Andrew Allen said they would like to take part in it as well because they want Andrew to be remembered in a more positive light."