World Music NI to appeal over Derry WOMAD decision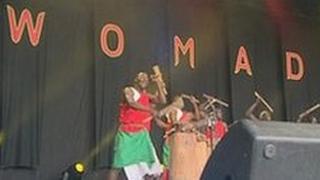 The Northern Ireland partner of the WOMAD festival is to appeal against the decision not to bring the celebration to Londonderry.
The world music, arts and dance festival was to form part of Derry's City of Culture celebrations in 2013.
On Tuesday the Culture Company said that, on the basis of a feasibility study carried out by WOMAD, the financial risk was too high.
Darren Ferguson from World Music NI said it was a unique opportunity.
"The sad thing is that, myself and my colleagues, we've put our own personal investment into getting to this stage, and we could see the massive potential that WOMAD would actually bring to the people of Northern Ireland.
"At this time and in this financial climate, it would be like Belfast turning down the MTV awards.
"A massive investment for Northern Ireland has just been turned down."
World Music NI also said they remained fully committed to the project, and will continue to work towards a solution to ensure the event can progress as planned.
The Culture Company - which is responsible for planning Derry's year as City of Culture - said that several months ago, their Board asked WOMAD for a feasibility study into hosting the festival in Derry.
In a statement, the Culture Company said that "a sub-group of the board was then established to consider this proposal".
"It found that, on the basis of the feasibility study, the financial risk of hosting the festival to Culture Company, as sole funders, was too high.
"Culture Company has scheduled a packed programme of events and projects for 2013, which will be published in September this year.
"A highlights programme is to be published in May."
The four-day music festival attracts about 30,000 people every year.
The WOMAD festival was founded by Peter Gabriel in 1982 and is a celebration of world music, arts and dance.
There have been more than 160 WOMAD events in 27 countries.
The organisers say their aim is to create awareness of the worth and potential of a multi-cultural society.