Defendant 'sitting duck' - solicitor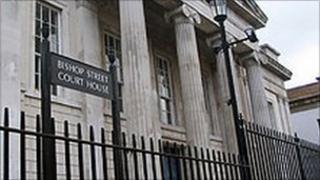 A defendant would be a "sitting duck" for a paramilitary organisation if he was ordered to live at home as part of his bail conditions, his solicitor has told Londonderry Magistrates Court.
18-year-old Sean McFadden, from Little Diamond in Derry, is charged with making threats to kill and assault.
His solicitor Paddy MacDermott said his client could not reside at home because a threat had been made against him.
He was released on bail and ordered to live at a police-approved address.
The defendant was also charged with stealing confectionery from a service station on Abercorn Road in Derry, resisting a police constable, and breaking bail conditions on 19 December 2011.
The case was adjourned until April.