Womad 'wanted seven-figure sum' for Derry festival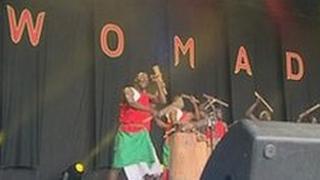 The organisers of the Womad festival wanted a "seven-figure sum" to bring the event to Londonderry, according to the Culture Compnay's Chief Executive.
Shona McCarthy said they paid for a feasibility study which showed the finances "just didn't stack up".
But Chris Smith, Womad's festival director, said it was "absolutely not true" Womad had asked for £1m.
"The cost of the festival, as we designed it on their brief, would have been in the region of £1m.
"That does not include the revenue it would have generated," he said.
"My surprise and disappointment is that the feasibility study should have been the start of a conversation.
"We would be happy to discuss if there is an alternative approach, but unfortunately the Culture Company have chosen not to engage with us in terms of designing a different type of festival.
"I was disappointed with the way this particular information was given to my company.
Womad's Northern Ireland partner, World Music NI, has said it is to appeal the decision.
Shona McCarthy also said the Company hopes to secure £20m in funding for its entire programme of celebrations.
"A seven-figure sum would have been required to invest to bring the festival here, and with no kind of proven track record of how it might work here.
"It was very high risk, and the entire risk would have sat with the Culture Company.
"I would be delighted to see the Womad festival come here, but if they're really convinced the finances stack up they can take the risk and bring it here and we'll be delighted as a city to host it."
She also apologised after Womad said they had found out about the decision from news reports.
"It was hugely regrettable and I do unreservedly apologise, no organisation wants to find out that way.
"That was on the basis of an interview done with a local representative from World Music NI, and our letter was scheduled to go out on Tuesday morning, and it was extremely regrettable."
The Womad festival was founded by Peter Gabriel in 1982 and is a celebration of world music, arts and dance.
There have been more than 160 WOMAD events in 27 countries.
The organisers say their aim is to create awareness of the worth and potential of a multi-cultural society.