PSNI warn someone will be killed over internet fights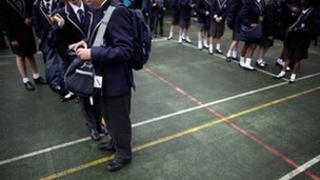 The PSNI in Londonderry have warned that someone will be killed unless young people stop organising fights on social networking sites.
A senior officer said children as young as 12 are involved in the fights and more than 100 people are gathering to watch.
The fights are being recorded and posted online.
Sgt Sam Young said parents need to be vigilant and take an active interest in how their children use social media.
"My team are currently investigating what appears to be three pre-arranged fights that kids are getting together on Facebook," he said.
"We're finding that when we turn up to deal with one incident, another one is being arranged within a very short time at a different location.
"The first two fights happened at Ebrington Square. We had become aware of it from parents who had been monitoring their children's internet and phone use age.
"We were able to deal with that fight before it became an issue.
"It's vitally important the police get there before these things happen.
Boys and girls involved
"Boys and girls are involved in these fights."
A Principal of one Derry school said the school does not allow access to social networking sites during school hours.
Marie Lindsay, Principal of St Mary's College in Derry, said: "We have a code of conduct that every pupil signs about acceptable social networking use.
"Many of the problems we see in terms of bullying are now coming through social networking sites. It reflects a change in society.
"You can look at social networking and say it is a good good thing but there are also inherent dangers in it."