100 vacant buildings in Derry conservation area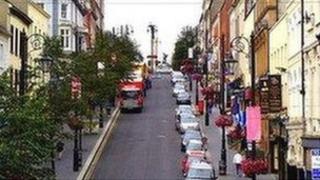 There are at up to 100 vacant, derelict or almost derelict buildings in conservation sites in Londonderry's cityside.
The figure was revealed to Derry City councillors by a delegation from the Walled City Partnership on Tuesday.
A street-by-street survey, which did not include the Waterside, was carried out three years ago.
Mary Kerrigan from the Walled City Partnership said the number of derelict buildings could now be higher.
The Walled City Partnership has so far, repaired 19 buildings including the ground floor of the Northern Counties Hotel at Magazine gate.
The organisation said they have concerns if heritage fits into the Foyle Valley Gateway Master Plan and the One Plan.
"We are not clear whether heritage has a place in the One Plan. We are very concerned about it," Mary Kerrigan said.
"Clearly something has to be done. Visitors who come to see built heritage stay twice as long and spend twice as much.
"There's a real economic case for us to take our built heritage seriously. All heritage, listed and not listed buildings."