Strickland murder accused gets hospital bail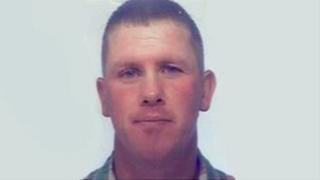 A farmer accused of murdering a man in County Down is under threat from loyalist paramilitaries, the High Court has heard.
The court also heard a claim that Jimmy Seales has access to more than £5m and may leave NI if released from custody.
Details emerged as 54-year-old Mr Seales was granted temporary bail to undergo hospital assessments.
These relate to his case that he could not have killed Philip Strickland.
Mr Strickland, 36, was shot dead in a car near Comber on 11 January.
Mr Seales, from Ballykeel Road, Hillsborough, is one of four men currently charged with his murder.
It was previously disclosed that he was himself allegedly kidnapped and subjected to a vicious assault months before the shooting.
Mr Seales' lawyers claimed his injuries meant he was incapable of firing the shotgun said to have been used in the killing.
They argued that urgent medical and forensic examinations were necessary in order to help prove their case.
Ridiculous
Opposing the application, a prosecution barrister said an eye witness claimed to have been in a struggle with Mr Seales, armed with a shotgun, in Comber around 15 minutes before Mr Strickland's body was found.
It was alleged that the farmer, accompanied by two other suspects, threatened the man.
He was told to get back into his car or else Seales would "do you and your family", the court heard.
According to the prosecution a second witness told police that someone else charged in connection with the killing confided to him that he was present and that Mr Seales shot Mr Strickland in the head and leg.
Mr Seales denies any involvement in the murder.
Confirming that the gun used in the shooting has never been recovered, the prosecution barrister claimed that the accused would have the chance to get rid of it if released.
He added: "He (Seales) himself disclosed that he has access to a large sum of money, believed to be in excess of £5m which he obtained from the sale of land.
"There is an identified threat to this applicant from loyalist paramilitaries and I am instructed that PM1s (threat messages) have been issued to him in relation to that."
It was further claimed that a co-accused told prison staff that Mr Seales was planning to "take off down south" where he has lots of friends from farming deals.
Defence lawyers argued that Mr Seales does not have the capacity to use a shotgun due to his injuries.
Brian McCartney QC also disputed the finances allegedly available to his client.
"He has money, but the figure of £5m is simply ridiculous," the barrister said.
Temporary bail was granted to attend the relevant hospital for a period of hours.
Mr Justice Stephens ordered that Mr Seales must remain in police custody, with his solicitor to be present at all times.
The judge stressed: "He will comply with all the directions of the police officers throughout the period of time on bail."