County Londonderry family's Ming dish fetches £1.5m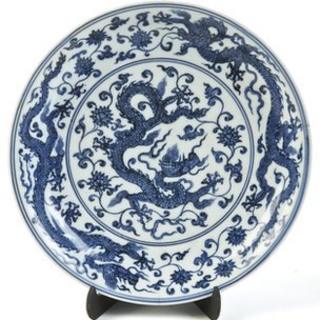 A cracked porcelain dish made during the reign of the Chinese Emperor Xuande which was once owned by a family from County Londonderry has sold at auction for £1.5m.
The Ming Dynasty dish was brought to Northern Ireland by a member of the as-yet unidentified family who served with the British Army in China during the late Victorian colonial era.
When he died in 1985 it was valued for probate, and assessors in London put the dish's worth at approximately £1,000.
The family sold the artefact at auction in County Meath for 310,000 euro (£256,000) only five months ago, and at the time were said to be "delighted" with the price.
At the time it was the highest price paid at auction in Ireland for an oriental artefact.
But it was purchased by a specialist dealer from London, who consigned it to Sotheby's auctioneers for sale in Hong Kong on Wednesday.
The dish fetched 18.8m Hong Kong dollars, or approximately £1.5m.
'Lottery'
James O'Halloran, the managing director of Adam's Auctioneers - who sold the dish at auction in October - said at the time it sold for "a phenomenal price".
"We catalogued it in much the same way as Sothebys did, and we had a huge number of people inquiring, especially from China.
"We had a number of Chinese people at the auction, and it was eventually bought by a London dealer in Chinese ceramics.
"I haven't been able to talk to the vendors since the news of this latest sale, but I would imagine they won't necessarily be thrilled.
"It's not uncommon in the art world that something could be bought in one place and then be offered somewhere else and make a higher price.
"There's a huge lottery element to this sort of trade," he said.
Described by Sothebys as a 15th century "magnificent blue and white dragon dish", it was made at the royal kilns of Jingdezhen in the reign of the Emperor Xuande (1426-1435).
It is decorated with an image of a five-clawed dragon - a symbol of imperial power, and has two hairline cracks.
The dish is extremely rare, and the only other known example is a smaller version in a museum in Taipei, Taiwan.
It is believed it would have been used to serve sweetmeats at banquets.