Dissident republicans arrested in Londonderry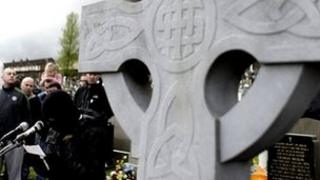 Six men who were arrested following a dissident republican rally in Londonderry on Monday remain in police custody.
Several hundred people attended the event during which a masked man read out a statement from the Real IRA, threatening to attack police.
The arrested men were taken to Antrim police station for questioning.
The police said they kept a distance from the rally, but a security force helicopter monitored the scene.
The BBC's Ireland correspondent Mark Simpson said a small group of men lined up and marched in paramilitary style uniforms during the event, which was held at Creggan Cemetery in the city.
In the statement, the Real IRA - the group which killed two soldiers in Antrim three years ago - threatened to keep targeting police officers.
Our correspondent added that police intervened after the rally was over and carried out a number of searches.
Traditionally every Easter, republican rallies are held to commemorate the 1916 Easter Rising, when rebels seized control of parts of Dublin and proclaimed Ireland a republic.