Londonderry man threatened girlfriend from police cell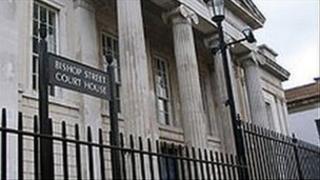 A man has been jailed after he admitted assaulting his pregnant girlfriend and then making a threatening call to her from inside a police cell.
John Paul Harkin, of Maureen Avenue in Londonderry, pleaded guilty to the charges at the city's Magistrates' Court.
The court was told the 32-year-old phoned his girlfriend from a police cell in Strand Road PSNI station.
At the time, she was in the station giving a statement about her assault.
A prosecution lawyer told the court that a police officer who was taking her statement went to the custody cell where he found Harkin using a hidden phone.
Harkin, who has 115 previous convictions, was given a 12 month prison sentence.
Deputy district judge Nigel Broderick said he had carried out a callous assault on a pregnant woman whom he then intimidated from the confines of a police cell.