NI reservoir safety laws in spotlight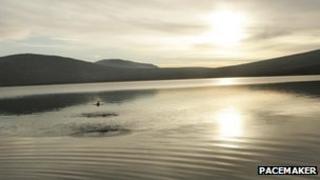 Northern Ireland is the only part of the UK with no specific legislation covering reservoirs safety. Yet they are considered to be a "significant potential source of flooding".
That is what experts have told a Northern Ireland Assembly committee.
With more than 150 reservoirs across Northern Ireland and 66,000 people who could be affected if there was a total failure, new laws are being put before the assembly early next year.
Approximately a third of reservoirs are owned or managed by Northern Ireland Water, who are responsible for public water supplies.
A third are owned by public bodies such as local councils. The rest are privately owned and it is these ones, in particular, that are a cause for concern.
Reservoirs seldom fail in the UK, but in 1925 it was a very different story.
Maintenance
The Welsh village of Dolgarrog was destroyed when a dam burst and 16 villagers lost their lives.
The same year, in Scotland, a dam failed killing five people. The result was new legislation to control dam building and ensure they were properly maintained and inspected.
But it was never adopted in Northern Ireland.
The Rivers Agency is overseeing the introduction of the first Reservoirs Bill in the assembly.
David Porter from the agency said: "Reservoir structures are known as being very difficult structures to manage and they also hold considerable volumes of water.
"Legislation is required to make sure that reservoir owners firstly understand the risk and then that they mitigate it by having an inspection and maintenance regime in place."
Last year, a large twin-reservoir scheme at the edge of Belfast, known as the Belfast Waterworks, caused a scare.
Water was spotted seeping from the structure. In the end it was just a blocked pipe and was given the all clear by specialist engineers.
However, it emphasised the need for regular checks. Belfast City Council who own the reservoirs had to resort to using Scottish reservoir safety checks because there was no local equivalent.
Northern Ireland Water have already adopted UK reservoir safety guidelines as part of their inspection policy because of the lack of local legislation
Reservoirs seldom fail suddenly. They usually show signs of problems such as cracks, crumbling embankments or seeping water first.
Which is why the emphasis of this legislation will be on inspections. In the absence of regular checks key warning signs could be missed.
Referring to privately owned reservoirs, David Porter admitted that they did anticipate there would be some that will require immediate attention.
"We've been trying to encourage some of the owners to anticipate this legislation. They should get an engineer to look at their structure and assess it," he said.
One problem facing any reservoir owner is the cost of repairs.
There is the potential for this to run into millions of pounds turning a reservoir into a serious financial liability.
The proposed law would include the power to have the work carried out and the bill presented to the owner if they refused to do it themselves.
The Reservoirs Policy consultation is seeking views on the proposed legislation from reservoir owners and the public until the end of May.