Rifle charge men released then remanded in custody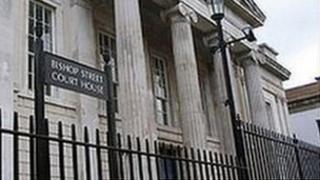 Two men charged with having a rifle found by police in Londonderry last year have been released from custody and then remanded back into custody.
District Judge Barney McElhome released Mark Patrick Anthony Kerr, 24, from Caribbean Walk and Anthony Michael Taylor, 44, from Farm Hill in Springtown.
They were remanded into custody after prosecutors said they would appeal.
The two men had spent nine months in prison pending a forensic report.
In court a police officer said that forensics were still outstanding.
Earlier this month, Judge McElhome expressed his dissatisfaction at the delay by forensic scientists.
Mr McElhome then said while he was in no way criticising the PSNI it was totally unreasonable for the two defendants to be kept in custody for nine months pending the outcome of forensic examinations.
He said he was of the firm belief that there was an undue delay in the forensics aspect of the case and he said such delays undermined public respect for the rule of law.
The district judge said neither defendant had been convicted of anything. He said whatever the strength of the case against them, both men were innocent before the law and there was a presumption of their innocence.
He said if released on bail he was confident that stringent bail conditions would enable both defendants to be closely monitored.
The case was adjourned until 10 May and both defendants will remain in custody pending the prosecution appeal against Mr McElhome's decision to release them on bail.