Shop manager assaulted during robbery in Derry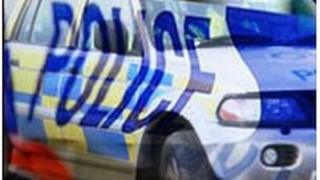 The manager of a butcher's shop who was assaulted during a robbery at the weekend has said they have been targeted before.
Gary Dobbins was alone in the William Street store in Londonderry on Saturday when a masked intruder struck him on the face before taking a sum of money from the safe.
The man, wearing a balaclava, entered the premises at about 18:50 BST.
Gary Dobbins said he was doing a stock take when the man came in.
"A man dressed in black came in and slapped me on the face. I went to the ground and he trailed me along the floor," he said.
"He told me to open the safe. I had to open the safe and he took the money and ran off.
"It was all a blur, I was badly shook up.
"On New Year's Day masked men came into my house looking for money.
"Our other shop was broken into also.
"My Dad feels very intimidated. He's devastated, bills have to be paid.
"When it happened, I just sat in shock in the shop and phoned the police."
The police have appealed for anyone with information to contact them.