Woman lost all memory of her children after aneurysm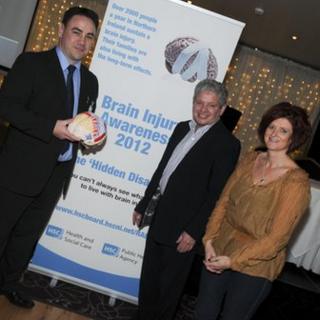 A woman from County Londonderry has described how she lost all memory of her life and her children after she suffered a brain aneurysm.
Daphne Wilson from Limavady was walking to a friend's house to babysit when she became ill and fell down in the street.
She later woke up in Belfast's Royal Victoria Hospital.
"I didn't remember anyone or anything," she told BBC Radio Ulster.
She did not even recognise her own children and said she was very confused when a young woman stood at the bottom of her hospital bed and called her "mammy".
Ms Wilson recounted shouting: "Get out of here, you're not my daughter" at the woman, before a nurse was called into her room.
Upset
"They must have calmed me down or something, and I was going round saying 'what wee girl is that there, coming in saying she's my daughter and all this here, and calling me mammy?'"
She said she was very close to her daughter, who was extremely upset by the incident.
"I had no memories of my children, no memories of giving birth to them," Ms Wilson said.
She added that her family have since filled her in on many aspects of her life which had been completely wiped from her memory.
However, the initial stages of her recovery were challenging, and the confusion continued when she was release from hospital.
"When I went home I didn't know it as home, and didn't recognise it, even though it was me that picked the paper, picked this, picked that....it was strange," she added.
Ms Wilson has made a remarkable recovery and this week she told her story to delegates at a conference on brain injuries in Derry.
Flashbacks
She described how she still struggles with memory loss on a daily basis, and often forgets where she is going and what she has to do.
She said her experience of waking up in the morning was like "rebooting a computer".
"With a brain injury, everything has to be routine and regular and I have to write everything down," she explained.
"If I'm going somewhere I have to have my clothes left out in the morning, so when I look at my diary, I see the clothes I know I'm going somewhere."
Ms Wilson said she often gets "mini flashbacks" when she meets people for the first time and described how she sometimes becomes emotional when she eventually recognises a relative or old friend.
She said the experience of memories quickly flooding back into her mind sometimes felt like watching movie trailers on a cinema screen.
Despite the significant challenges that she has overcome and those she still faces, Ms Wilson said she remains upbeat and has very strong support from her family.
"Everything in my life is just absolutely beautiful," she said.
The conference Ms Wilson addressed was organised by the Western Health and Social Care Trust (WHSCT) as part of a series of events to mark Action for Brain Injury Week, 14 - 20 May 2012.