Vandals try to burn down church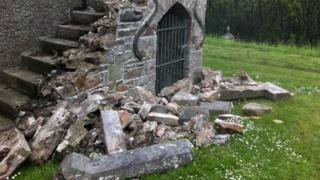 Vandals have tried to burn down a church in County Donegal in the third attack in six weeks.
The front door of St Lugadius Church of Ireland in Clonleigh, Lifford was forced in and pictures torn from the walls and smashed.
They also broke down a wall outside the church and used a rock to try to break the handle of a safe inside the church.
As the gang left they stuffed a t-shirt into the keyhole of the back door of the building and set it on fire.
Appalled
Most Rev John Hay said the entire community was appalled by what had happened.
"I know these acts are being carried out by young people who have drink taken and are hanging around the church grounds," he said.
"I would appeal to them or to their parents to help us stop this kind of thing happening again.
"Both sides of the community are appalled by what has happened. We have always enjoyed very good relationships with our neighbours.
"Our community is shocked to think that people would come in and do this for no reason other than thuggery.
"We are lucky we have a church today at all - the entire building could have been burned to the ground," he said.
Rev Haye said he suspects the attack took place last Wednesday but was not discovered until Friday.
Gardai have confirmed they are carrying out a full investigation into the attack.