Strabane mother warning after chicken pox virus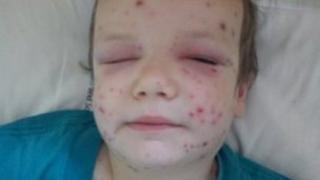 A Strabane mother has warned parents to be aware of the dangers of chicken pox after her young child became seriously ill after contracting the virus.
Four-year-old James Mullan ended up in hospital fighting for his life after contracting streptococcal and staphylococcus bacteria infections.
Christine Mullan said parents should be aware of how quickly and how dangerously something like chicken pox can develop.
He spent six days in hospital.
Christine said she did not want other parents going through what she went through.
"His temperature just soared. He was irritable, was not eating or drinking.
"I phoned after hours and they said just to give him paracetemol.
"Every mother knows when something is not right with their child.
"His face became swollen and he couldn't not look at the light.
"I was crying. I could hardly breathe. The doctor then saw him within five minutes.
"I don't want any other mother to go through what I did in the last week," she said.
Christine said parents must look out for signs that something is not right.
"If you cant control the temperature and see swelling, contact the doctor immediately.
"James could have lost his life. I could have been planning a funeral," she said.