Priest cleared of teen assault "devastated" by ordeal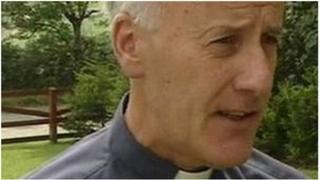 A priest acquitted of five charges of sexual assault against a teenage girl in Londonderry 20 years ago has said his life was "devastated" by the allegations.
Father Eugene Boland, of Killyclogher Road in Omagh, was cleared by a jury at Londonderry Crown Court on Wednesday after an an eight day trial.
Speaking publicly to BBC Radio Foyle for the first time since the trial Father Boland said he is glad his ordeal is over.
"I was absolutely devastated, it's the worst possible thing that can happen in your life," he said.
"How could that person make such an allegation because there was no truth in it.
"I can remember vividly that Sunday morning when I said my last mass in St Mary's church in Killyclogher, they were just crying, they knew something had happened that I had to stand down".
Father Boland said he had no bitterness or anger and had forgiven the person who made the allegations.
"I'm still trying to come to terms with the fact that I am free." he said.
"I just thank God, we were praying for this day for the last two years or so.
"My faith was strong and I always believed the truth would come out in the end.
Return to ministry
"For myself and my family life changed dramatically.
"My family walked this diffcult and painful journey every step of this way, it was difficult and it was lonely.
"I always knew there would come a time I would get the good news and hopefully I will be able to return to my ministry."
Canon lawyers in Rome must now decide when Father Boland can return to work. He has been suspended since the allegations were made in 2010. He's to meet the diocesan administator, Monsignor Eamon Martin, later.
Father Boland thanked all those who had supported him during the trial.
"I want to thank all the wonderful people, especially those in my own parish, and neighbours and friends for their love care compassion and understanding," he said.
"Praise God, thank God."