Londonderry 'should host Clipper yacht race again'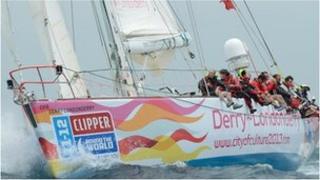 The organiser of the Clipper Round the World Yacht Race has said Londonderry should consider hosting the event for a second time.
Sir Robin Knox-Johnston, who was the first man to sail solo, non-stop around the world in 1969, said people in the city have extended the warmest welcome to the crews and his team.
He said a clipper race is a real boost to the local economy.
"Now we have an idea how to use this, let's use it to cash in," he said.
"Make money for the city out of this and keep people in employment."
The ten clipper yachts arrived in the city last weekend.
Thousands of people have enjoyed the celebrations at the re-developed quayside.
The yachts will leave Derry at lunchtime on Saturday and travel to Greencastle in County Donegal.
The next race starts there at 17:30 BST.
The crews have to make the fastest possible time to the Netherlands and then they will sail to Southampton where the race finishes in two weeks' time.