Police aware of identities of Paul McCauley attackers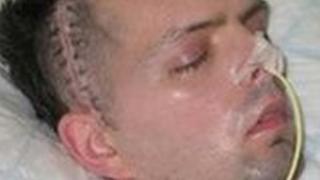 The officer in charge of investigating a sectarian attack which left Londonderry civil servant Paul McCauley in a vegetative state says he knows the identities of some of those involved.
Mr McCauley, 35, was attacked by a gang at a barbecue in the Waterside on 16 July 2006.
He will need round the clock care for the rest of his life after suffering severe brain injuries.
One man is serving 12 years for his part in the assault.
Detectives believe that as many as 15 other people were involved and after the attack, the group made off in the direction of Irish Street in the Waterside.
A total of 25 people have been arrested and interviewed as part of the police investigation.
PSNI Detective Chief Inspector Ian Harrison said he is, on the sixth anniversary of the attack, appealing again to people in the Irish Street, Clooney, Lincoln Court and Fountain areas of the city to come forward.
"Paul was left with traumatic head injuries. He cannot speak, he cannot move. In truth, his body has probably become his prison.
"We have received some information from people in the Irish Street and Fountain areas, where I believe the answers do lie as to who was involved."
Family 'deserve justice'
Detective Chief Inspector Harrison said there are key pieces of information still out there.
"I need the community to come forward and give me the answers I need to bring these people to court.
"The family deserve justice and they deserve answers.
"It's about time now people come forward and told me what they know.
"This whole incident has left a stain on the city of Derry.
"I can understand people are concerned, but I want them to at least sit down with me tell me what they know and I can give them reassurance in respect of giving evidence and helping them through court."
Mr McCauley's father Jim says his son needs constant nursing home care.
"We do not know if he knows his parents, his brothers or sisters, or friends and visitors.
"We know that he is aware that those around him care, he can communicate with his eyes sometimes.
"You can see the pain in his eyes when has has problems that we cannot address. That is the very sad part of it."