GAA club 'may move' as vandals destroy changing rooms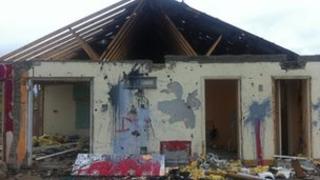 A GAA club in Londonderry is considering re-locating after its clubhouse was attacked by vandals.
Sean Dolan's clubhouse in Creggan was destroyed in an arson attack in December, however the changing rooms were saved.
They have now been wrecked by youths who broke in.
The club secretary Danny Cassidy said the entrance to the club has been demolished and tiles have been taken off the roof.
"Internally, the club has been completely stripped and the changing rooms are now unusable.
"The ladies changing room has been destroyed and all the copper has been stripped."
Mr Cassidy said beer kegs and drugs paraphernalia had been found amongst the debris.
Losing Members
The club's vice-chairman Marc McClery said players are having to train elsewhere and the club is losing members.
"We cannot even play a match here now. We have to travel from Creggan to the Waterside twice a week to train.
"We had up to 50 members before, but the day the summer scheme started only 25 children turned up.
"Parents do not want to send them here, not in the state that it is in.
"If we get this back to what it was I have no doubt at all, they will be coming in the gates again."
Club officials have said efforts were made to secure the site after the arson attack.
Mr Cassidy said he hopes the club will not have to move, but it is a possibility.
"I do not want to be alarmist but we have to review on a costing basis what we are doing. It is not about us, it is about the children.
"We cannot do it on our own because it is more than a sporting issue, it is a community issue and a health and safety issue."
Sinn Fein MLA Raymond McCartney said it is a sad and frustrating situation, but he believes there is a future for Sean Dolan's GAA club in Creggan.
"We have tried our best to say that the clubhouse should be rebuilt as soon as possible because we know the value of the project to Creggan.
"There is a small number of young people in Creggan who are responsible for this.
"I have spoke to some community workers and I think there will be a concerted effort to try and deal with these young people.
"What we need to do now in in the short-term is make efforts to ensure the health and safety issues are addressed.
"In the long term, we need to ensure the club is rebuilt and the pitch is used again by young people in Creggan and beyond."