Police defend raid on home of Londonderry mayor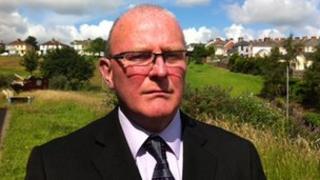 Police have defended to Derry City Council their raid on the home of Sinn Fein mayor Kevin Campbell.
The PSNI sent a letter to council chief executive Sharon O'Connor outlining their reasons for the raid.
They said that they searched his house in response to suspected RAAD activity in the Creggan area, and insist that two males were seen running into Mr Campbell's house.
Councillors had written to the PSNI to voice their concerns.
Sinn Fein described the response from the police as "far from acceptable".
Councillor Barney O'Hagan called for a full apology from the PSNI.
"I'm disappointed because, given all the mistakes that have been made in the past, you would think lessons have been learned," he said.
'Farcical'
"I'd have expected more integrity coming from the PSNI.
"I'd have thought someone should have intervened at this stage and insisted that the organisation put their hands up and admit they made a mistake."
Councillor O'Hagan described the PSNI's explanation for the raid as "farcical".
"When the officers initially arrived, they were surprised that it was at the home of the mayor," he said.
"They asked him if he was the only one present and he confirmed that was the case.
"The chain of events then descended into farcical proportions and an almost six-hour stand-off outside the mayor's home.
"Officers entered the house in a very casual manner, which didn't add any weight to the idea that an individual was fleeing from a house full of weapons and may have been hiding.
"The whole chain of events doesn't lend itself to any explanation given."
Councillor O'Hagan condemned the incident as "political policing".
In a statement, the PSNI said they appreciated concerns had been raised but due to a live investigation continuing, it would be inappropriate to comment further.