Fire at electricity substation in Londonderry was arson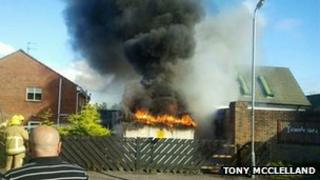 A fire at an electricity substation in Londonderry which caused power cuts for up to 3,000 people was started deliberately.
It was reported at 18:45 BST on Friday at the substation on the Ferndale Road in the Galliagh area of Derry.
The Northern Ireland Fire and Rescue Service said youths had stored bonfire material close to the substation and this had been set on fire.
Northern Ireland Electricity (NIE) said power has been restored to all homes.
'Mindless actions'
A spokesman said the substation appeared to have been extensively damaged and said firefighters had had to make the site safe before NIE engineers could carry out their repairs.
Speaking from the scene of the fire on Friday, SDLP MLA Mark H Durkan said several homes had been evacuated while firefighters tackled the "huge blaze".
"Not only have the mindless actions of a few youths caused great inconvenience to residents here, but they have also caused genuine upset and anxiety," he said.
"It is extremely fortunate that the consequences of this vandalism have not been even more serious causing injury or significant damage to neighbouring homes."
Around 01:30 BST on Saturday, police and fire crews extinguished a small rubbish fire near the sub station in Galliagh Park.