Man in court after riots in Galliagh area of Londonderry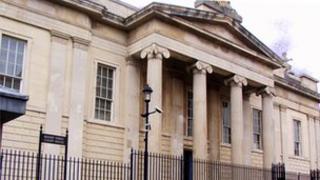 A man has appeared in court charged with riotous behaviour following disturbances in the Galliagh area of Londonderry.
Seamus Bradley, from Moss Park, was also charged with attempting to criminally damage a police land rover and assaulting, resisting and obstructing police officers.
Londonderry Magistrates heard the accused was recorded on police CCTV cameras rioting in Moss Park on Friday.
An 18-year-old has also been charged.
He is expected to appear before the city's Magistrates Court on 8 August.
A police officer told district Judge Mervyn Bates at a special sitting of Londonderry Magistrates Court on Saturday that when police arrived at Glengalliagh Road early on Friday morning a crowd of up to 50 people were standing around a burning barricade.
She said Mr Bradley was recorded emerging from the crowd and throwing several objects at a police land rover.
He was then pulled away by other members of the crowd, but came back, and threw more items at a police land rover before he was arrested.
The officer said she opposed the defendant being granted bail because tensions in the community were high due to the prevailing marching season.
Applying for bail, solicitor Don Mahoney said the defendant was so "hopelessly and catastrophically" drunk at the time that he remembered "absolutely nothing" about the disturbances.
He said the defendant's actions were those of a nuisance.
Mr Bradley was remanded in custody after the judge said he believed there was a high likelihood of the defendant reoffending.