NIACRO opens new offices in Londonderry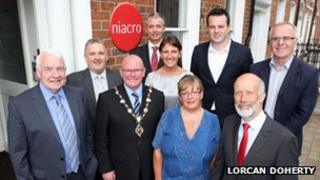 An organisation which works with offenders to improve their welfare and prevent them from reoffending has opened new offices in Londonderry.
The Northern Ireland Association for the Care and Resettlement of Offenders (NIACRO) works with people at risk of involvement in crime and those leaving custody.
It also launched its corporate plan.
The Minister of Justice David Ford said NIACRO had established strong links across the north west.
"I have met a wide range of people from the statutory, voluntary and community sectors.
"They are working together and are achieving real change in peoples' lives," he said.
Representatives from the Department of Justice, Probation Board for Northern Ireland, Department for Employment and Learning and Northern Ireland Prison Service also attended.
Chief Executive, Olwen Lyner, welcomed local employers and community groups.
"We're delighted to be here in the north west to celebrate the opening of our new offices and launch of our corporate plan with our partners and friends," Ms Lyner said.
"Our corporate plan sets out our vision for the next three years, which includes developing closer links with local communities to enable them to deal more effectively with crime and anti-social behaviour."