Pipe bomb explodes outside house in Londonderry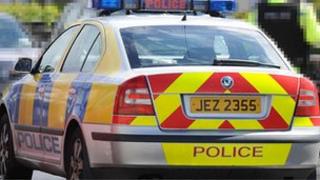 A pipe bomb has exploded outside a house in Londonderry.
No one was in the house in Heron Way in the Waterside at the time. It happened about 01:00 BST.
Police cordoned off the area and a number of homes were evacuated. Army bomb experts went to the scene.
The area remains cordoned off.
Nichola Betts, a mother of three, was wakened by the explosion.
She told BBC Radio Foyle her children, who were camping in the front garden at the time, were terrified.
"The kids were out camping and we had just gone up to bed and heard a big bang.
"We rushed downstairs and the kids ran in petrified. I also have a two month old baby who was also wakened," she said.
Nichola's daughter Casey, 9, said it was a scary experience for her and her 14-year-old sister.
"It was my first time to camp outside, I would be too scared to do it again," she said.
Police have appealed for witnesses to contact them.