Derry festival replaces troubled-linked bonfire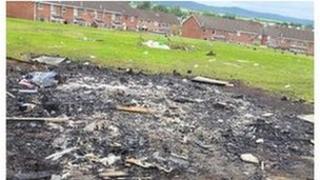 Community leaders in Londonderry are hopeful an annual bonfire which has caused trouble in the past will not take place next week.
Youths attacked the police with petrol bombs and stones in July after residents in Galliagh objected to a fire planned for August 15.
A senior police officer blamed a 'hardcore' element for rioting in Moss Park after the bonfire material was removed.
A three day festival has been organised in the area to prevent a repeat of the trouble.
Community worker, Martin Connolly, said it would give young people an alternative.
"We're not out to spoil anybody's fun but we want to provide the young people with very positive alternatives and, I think, at this stage, we've been successful.
"There are still a number of young people who are resistant to what is going on. We will do as much as possible to work with them.
"Hopefully, we will not have the same problem which we had a couple of weeks ago."
The festival starts on Monday 13 August and includes sports and day trips away.
Martin Connolly said some of the youths who initially wanted a bonfire have helped organise some of the events.
"There is something for everyone. The young, the old, children and their families," he said.