Arlene Arkinson's sister loses faith in murder investigation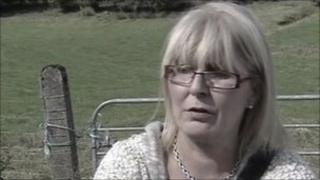 The sister of a missing County Tyrone teenager has said she has lost faith in the ability of the police to investigate her disappearance.
Arlene Arkinson has been missing, presumed murdered, since August 1994.
The 15-year-old disappeared after going to a disco in County Donegal and was last seen getting into a blue Mini Metro car with a man.
Her sister, Kathleen Arkinson, said PSNI detectives told the family the car has since been scrapped by gardai.
Convicted killer
In an interview with the Belfast Telegraph newspaper, Ms Arkinson said she was angry that the vehicle had been destroyed, as it may have contained forensic evidence "that could have proved that Arlene was in that car".
In 2005, the convicted child killer and rapist Robert Howard stood trial for the murder of the Castlederg teenager but was acquitted.
Howard is currently serving a life sentence for the rape and murder of 14-year-old Hannah Williams, from south London, whose body was found in a cement works in Kent, in March 2002.
Last year, the PSNI carried out fresh searches for Arlene Arkinson's body and at the time her family welcomed the move.
Detectives from the PSNI's serious crime branch have held meetings with the Arkinson family to keep them updated with the ongoing investigation.
However, speaking to BBC Radio Foyle on Tuesday - exactly 18 years and one day since her sister's disappearance - Kathleen Arkinson said: "I've no faith in them any more."
She explained: "The police told me that the gardai got rid of the car. Destroyed - and that's vital evidence, that's DNA."
It is understood that the vehicle was scrapped a number of years ago.
'Inappropriate'
Ms Arkinson said that following the destruction of the car, her only remaining hope was that her sister's body would be recovered.
A PSNI spokesperson said that "it would be inappropriate to comment on details of an ongoing investigation".
A garda spokesperson said that it would not be appropriate to comment on a live investigation that is being led by the PSNI.