Man charged with attacking his mother with machete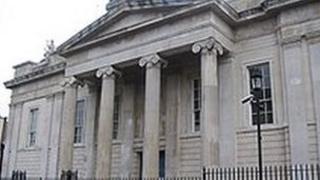 A man has appeared in court accused of attacking members of his family with a machete.
The incident is alleged to have happened in the Creggan area of Londonderry early on Thursday.
The court heard that the mother, brother and girlfriend of Stephen Patrick O'Kane from the Buncrana Road in Derry, all sustained slashing injuries.
The 23-year-old allegedly attacked them with the machete in their family home.
The defendant is charged with possessing a machete with intent to cause grievous bodily harm, and causing grievous bodily harm with intent.
A police officer told Deputy District Judge Peter King that the defendant's mother made an emergency phone call to the police about an ongoing fight in her home, involving her two sons.
When the police arrived they found the defendant's brother outside the house.
He said he had been stabbed by the defendant with a machete. The officer said the victim had a deep gash to his left shoulder.
Stabbed
Officers found the defendant's girlfriend inside the house.
She had received a slashing wound to her left hand, one of her fingers was partly hanging off and she had suffered significant blood loss.
She received three stitches at Altnagelvin Hospital, but because of concerns about tendon injuries she has since been transferred to the Ulster Hospital.
The police witness said officers also spoke to the defendant's mother. She said she had injured her right elbow while trying to separate her two sons.
The defendant was then arrested and taken to Altnagelvin Hospital where he was treated for a head injury which he said he suffered after his brother attacked him with a baseball bat. The defendant also had bruising to his forearm.
According to the officer, the brothers were not willing to make statements against one another. However, their mother has made a statement and the officer said a 60cm-long machete and baseball bat had been recovered.
Refusing bail, Mr King said he was very concerned about a machete being used in a family dispute. He said the victims had sustained slash injuries of varying degrees.
He remanded the defendant in custody pending a video link hearing on 13 September.