500 fined for parking in disabled bays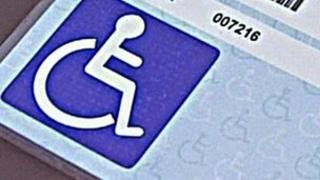 More than 500 people have been fined for parking illegally in disabled bays in the north west of Northern Ireland.
The figures, from the Department for Regional Development, show that 300 people have been fined in Londonderry so far this year.
A total of 200 people were fined in the Coleraine, Limavady and Strabane areas.
Access and Transport Manager with Disability Action, Orla McCann, said people should show respect for disabled drivers.
"If you have a blue badge, you need it, so for people to be parking in those spaces without any sort of concern or respect for the inconvenience that they're causing for disabled people just isn't right.
"We welcome this, but what we would like to see it the implementation of an initiative in Belfast where there are two special parking attendants who concentrate on the abuse of designated bays and the blue badge system," she said.