Two women arrested in Strabane following drugs find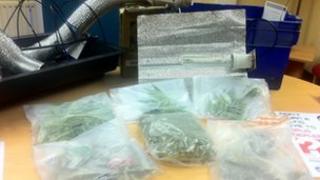 Drugs with an estimated street value of £15,000 have been seized by police in County Tyrone.
The seizures were made on Tuesday during the planned search of two properties, one in Strabane and one in Sion Mills.
Two women aged 28 and 53 were arrested but have been released on bail pending further police enquiries.
The drugs recovered include cannibis resin, herbal cannabis and cannabis plants.
Strabane Area Commander Chief Inspector Andy Lemon asked the public 'not to turn a blind eye' to the sale and supply of illegal drugs in local towns and villages.