Elderly siblings' car set alight in Strabane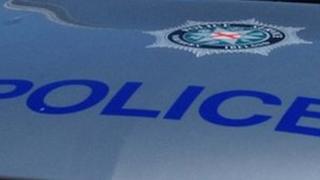 A car belonging to an elderly brother and sister has been destroyed in an arson attack in Strabane.
It happened on Townsend Street at 06.00 BST on Saturday.
Police said a man carrying a container approached the car and stood at the front of it for a short time, before walking in the direction of a nearby church yard as the car ignited.
Sinn Fein councillor Jay McCauley, who spoke to the siblings, said it is a very difficult time for them.
"This is a very quiet area and these people have had no falling out with anyone so they do not know why it has happened," he said.
"It is a very deplorable act and people in the area are sickened by it."