Arkinson family criticise police search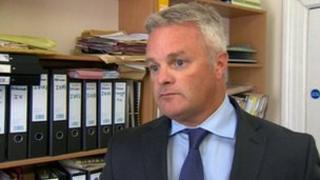 The family of Castlederg teenager Arlene Arkinson have accused the police of prioritising sporting events over the search for their sister.
Arlene went missing 18 years ago after a night out in Donegal.
Despite searches on both sides of the border her body was never found.
The family have been told that a search due to take place in the summer did not happen because PSNI resources were needed at the Irish Open Golf and the Olympic torch relay.
The information was contained in a letter from the coroner to the family.
The inquest into Arlene's death was due to be heard later this year but it is being delayed because the searches have not been completed.
The family's solicitor, Des Doherty, said they have difficulty accepting the reasons.
"That the Irish Golf tournament and the resources involved in the carrying of the Olympic torch, that these are proffered as reasons for not continuing with the search for Arlene's body, the family would see these as excuses that just don't stand up to scrutiny," he said.
Arlene's sister, Paula, said the family no longer have any faith in the police investigation.
"We were told that no stone would be left unturned and the search for Arlene would not stop unless there was a big tragedy," she said.
"I do not believe these events were big tragedies."
The family have called on the PSNI to give greater priority to the search for Arlene.
In a statement to the BBC, police said the search strategy is under review and that all new searches are subject to weather conditions, availability of resources and operational commitments.
They say searches will resume early next month and will be carried out by a small team assisted by body recovery dogs.