DSD considers taking over development of Fort George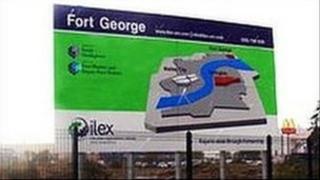 The Department for Social Development has confirmed it is considering taking over responsibility for the management of the Fort George site in Londonderry.
The former army base on the Strand Road is currently being managed by the urban regeneration company, Ilex.
In July, Ilex lodged a planning application for the redevelopment of the site.
The department said that if they do take it over, there will be no impact on the projects planned.
The outline for the 14-acre site is for a mixed-use development including residential, office, leisure and retail space.
It would also include community facilities, cafes and restaurants.
The department said it is considering taking over the project management of Fort George as part of its 'primary objective' to realise the 'full potential' of the north west region.
It also said it is working closely with the regeneration company so that full advantage can be taken of the opportunities presented by the UK City of Culture in 2013.
Foyle SDLP MLA Mark H Durkan, who is a member of the DSD committee, criticised the Department's handling of the case.
He said the committee was unaware that the department was considering a move to take over the project management and he called on the minister, Nelson McCausland, to clarify his position.
"Progress at the Fort George site has been extremely slow and there have been a lot of issues concerning decontamination of the site and planning permission," he said.
"A lot of that hard work has been done by Ilex while the department sat on the wings and it seems now that the department want to come in and lift the trophy."
A spokesperson for Ilex said it would not be appropriate for them to comment at this stage.
Fort George was acquired by DSD in 2004. It was then transferred to Ilex for regeneration.