Londonderry man shot by vigilantes may get compensation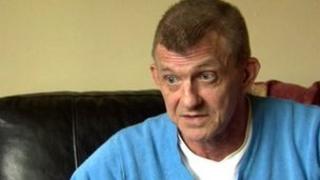 The Justice Minister has intervened in the case of a Londonderry man whose compensation claim was rejected when he was shot by vigilantes.
45-year-old Paul Ward said the compensation agency told him he wasn't getting paid because he didn't co-operate with the police investigation into the attack by Republican Action Against Drugs.
Mr Ward said he met the detectives from the PSNI yesterday to clarify their position and it's understood the police have actively supported his claim.
He said he has welcomed David Ford's intervention.
Mr Ward was shot three years ago. He said it was a case of mistaken identity.
He said he was invited to talk to the PSNI on Monday following an interview he gave to BBC Radio.
Shocked
"I spoke to two detectives in charge of my case and they seemed to be shocked by what I said on the radio.
"They told me the Compensation Agency hadn't contacted them for any information on me.
"It was quite a shock to me," he said.
"They were totally satisfied that I had co-operated fully with their investigation in giving information against the guys who shot me."
Mr Ward said he was encouraged by the intervention of the Justice Minister David Ford.
"For the first time in three and a half years I got up this morning with a bit of light at the end of the tunnel."